---
Join host Carol Castiel each week as she and two advocates from the world of politics, public policy, or academia discuss and debate a critical issue in the news, bringing depth, perspective, and insight to the world around us.

Listen to a Recent Program
UN Security Council Discusses

Iran's Nuclear Program

On the eve of the UN Security Council debate about Iran's nuclear program, Leonard Spector, deputy director of the Monterey Institute's Center for Non-proliferation Studies, and Paul Levanthal, founding President of the Nuclear Control Institute, discuss the urgency of curbing Iran's nuclear ambitions with host Carol Castiel.
(Airdate: 12 March 2006)
Port Controversy: Security v. International Investment?

P.J. Crowley, director for national defense and homeland security at the Center for American Progress, and Daniel Ikenson, trade policy analyst at the Cato Institute, discuss the trade and security issues as well as the politics behind the controversy over a deal that would authorize Dubai Ports World to take over management of six major US ports with host Carol Castiel.
(Airdate: 5 March 2006)
Africa's Growing Strategic Importance

Africa is increasingly important to both the United States and China according to a new report issued by the Council on Foreign Relations. Ambassador Princeton Lyman, former US envoy to South Africa and Nigeria, and Stephen Morrison, Director of the Africa Program at the Center for Strategic and International Studies, make the case for a new, strategic US approach toward Africa with host Carol Castiel.
(Airdate: 26 Feb 2006)
Cartoon Controversy: Freedom of Expression in the post 9 -11 World

Marvin Kalb, senior fellow at the Center on the Press, Politics and Public Policy at Harvard University and Tom Rosentstiel, Director of the Project for Excellence in Journalism, discuss freedom of speech in the post 9-11 world as the controversy continues over the publication of cartoons of the Prophet Muhammed.
(Airdate: 19 Feb 2006)
Controversy over Cartoons Satirizing the Prophet Muhammad

Helle Dale, Deputy Director for International Policy Studies at the Heritage Foundation, and Akbar Ahmed, professor of Islamic Studies at the American University in Washington, discuss the global controversy and ensuing violence triggered by caricatures of the Prophet Muhammed with host Carol Castiel.
(Airdate: 12 Feb 2006)
Risks and Benefits of Washington's Democracy Promotion Policy

In his recent State of the Union address, President Bush reiterated his strong belief in supporting democracy overseas to combat the threat of terrorism. But what if the democratic process brings radical groups to power as in the recent electoral victory of Hamas in the Palestinian territories? Marina Ottaway of the Carnegie Endowment for International Peace and Leslie Campbell of the National Democratic Institute discuss the risks and benefits of Washington's democracy promotion policy with host Carol Castiel.
(Airdate: 5 Feb 2006)
HAMAS LANDSLIDE: Promise or Peril for Mideast Peace?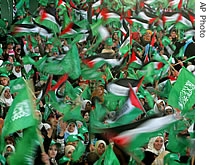 Ambassador Richard Murphy, former assistant secretary of state for Near Eastern and South Asian affairs, and Haim Malka, fellow in the Middle Eastern Program at the Center for Strategic and International Studies, discuss the implications of the stunning victory by the radical Islamic group Hamas in Palestinian parliamentary elections with host Carol Castiel.

(Airdate: 29 Jan 2006)