Plutonium is a manmade element created in nuclear reactors. If separated from the spent fuel of nuclear power plants by means of reprocessing, plutonium can be made into atomic bombs.
Reprocessing produces by the ton a material that can be used by the pound to make nuclear weapons. About a dozen pounds of plutonium was used in the bomb that destroyed Nagasaki. Because of plutoniums weapons potential, it is much more costly to store and difficult to safeguard than the spent fuel from which it is separated.
Plutonium is also intensely toxic. A speck the size of a pollen grain causes lung cancer.
The Nuclear Control Institute (NCI) opposes reprocessing and advocates direct, geological disposal of spent fuel because of the proliferation, terrorism and health risks associated with plutonium.
In the 1970s, Presidents Ford and Carter rejected reprocessing for the purpose of turning plutonium into reactor fuel because of plutoniums role in nuclear weapons and its poor economics.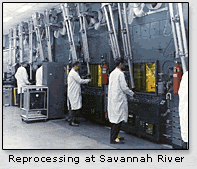 Vice President Richard Cheney was Gerald Fords Chief of Staff when this U.S. anti-reprocessing policy was established. Vice President Cheneys energy task force report, prepared for President Bush, now calls for reconsideration of this important 25-year-old nuclear non-proliferation policy.
The Bush energy plan cites the reliance of Britain, France and Japan on reprocessing, an industrial approach that separates nuclear waste into usable fuel and highly concentrated waste, as an example for the United States to follow. But these countries refused to follow the United States example of steering clear of reprocessing. Now they are struggling with what to do with large volumes of highly radioactive reprocessing waste and growing stockpiles of unwanted, uneconomic weapons-usable plutonium fuel.
Because of European and Japanese reprocessing, more separated, weapons-usable plutonium has been produced in civilian than military nuclear programs worldwide. Only about one-third of this plutonium has been used as fuel in power reactors, leaving a surplus of about 200 tons of weapons-usable plutonium in civilian hands.

These reprocessing programs also set a dangerous example for other nations. India used its civilian plutonium program as a cover for making nuclear weapons. Iran is suspected of preparing to follow Indias example.
The Bush energy plan credits reprocessing with easing nuclear waste disposal. In fact, reprocessing actually makes the waste problem worse because it creates several high-volume radioactive waste streams requiring storage, treatment and burial. A U.S. experiment with commercial reprocessing at West Valley, N.Y., abandoned in 1972, vastly increased the amount of nuclear waste and has thus far cost taxpayers more than $1.5 billion for cleanup.
And since it is not technically feasible to recycle plutonium as fuel in reactors more than once, reprocessing does not eliminate the need for a repository for spent fuel. It simply defers it.

The Bush plan also cites growing interest in new technology known as accelerator transmutation, which could be used in combination with reprocessing to reduce the quantity and toxicity of nuclear waste. But such an undertaking, assuming it could be made to work, is projected by the Department of Energy to cost $300 billion and to last 117 years---a likely underestimate given DOEs average cost overrun of 500% on large capital projects!
Plutoniums toxicity also presents special problems. A peer-reviewed technical study by NCI [in PDF format] concludes that a severe accident at a nuclear power plant loaded with plutonium-based fuel would result in twice as many fatal cancers beyond the plant as the same type of accident at a reactor containing only conventional uranium fuel.
NCI advocates disposing of separated plutonium by recombining it with the highly radioactive waste from which it was extracted---a process known as immobilization---instead of using it as fuel in reactors. In this way, nuclear-weapon states and non-nuclear-weapon states could merge nuclear disarmament with nuclear non-proliferation and cooperate to rid the world of plutonium.
For the United States and Russia, immobilization of excess warhead plutonium would provide a faster, cheaper and more secure way of disposing of plutonium from retired warheads than the present plan to turn it into fuel for commercial nuclear power reactors. For this reason, NCI advocates direct disposal of surplus U.S. and Russian military plutonium as waste.
(For more background information on plutonium and
reprocessing, see "The Plutonium Threat".)